Spain's MasMovil leads April fixed broadband gains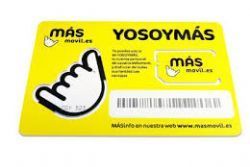 The MasMovil group (including Yoigo and Pepephone) led the monthly fixed broadband portability ranking for the second consecutive month in April, according to the latest report from communications regulator CNMC.
MasMovil attracted some 21,600 net subscribers to add to the 28,500 it lured last month, with Movistar (Telefonica) shedding 20,900 in April after losing 25,700 the previous month.
The country's other two major operators, Vodafone and Orange, added 8,700 and 3,600 respectively, with the remaining broadband operators, including Euskaltel, Telecable and R, attracting 3,800 lines in total after three consecutive negative months.
Spain as a whole added a total of 105,885 fibre to the home (FTTH) lines in April to increase the number of active connections to 5.4 million at the end of the month and offset the 90,454 fall in DSL connections.
Total fixed broadband lines came to 13.9 million at the end of April, with broadband penetration standing at 29.9 lines per 100 inhabitants, up from 28.7 lines a year earlier.
Recommended Reading :
* Spain provides Eu2 Mln in digital training grants
* Spain poised to enter broadband top 20 club