Ronaldo ready to pay 14.7 million euros in Spanish tax fraud case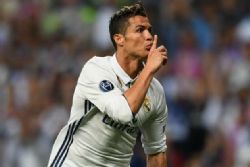 Real Madrid striker Cristiano Ronaldo is ready to pay Spain's tax authorities 14.7 million euros - the amount he has been accused of defrauding by a prosecutor - ahead of a court hearing next month, Spanish state TV said on Wednesday.
Broadcaster TVE said, without identifying its sources, the 32-year-old would make this payment as a gesture of good will.
The report added Rolando will reiterate at a hearing on July 31 that he is innocent and has never hidden any income from the taxman or committed any tax fraud in Spain.
Representatives for Ronaldo declined to comment.
The Spanish prosecutor says the Real Madrid forward knowingly used a business structure to hide his image rights income in Spain between 2011 and 2014. Ronaldo has denied the charges.
Recommended Reading :
* Spain detains Ronaldo's Mum for carrying EU55k
* Spain to end Beckham's law for foreign Footballers