Spanish Government Permits 5000 Moroccan Truckers to Enter Spain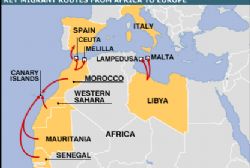 Spanish authorities granted a new quota of permissions to Moroccan road hauliers crossing Iberian borders, reported Moroccan news paper, Al Massae.
Moroccan commercial trucks have been stuck at the port of Algeciras on the Spanish coast because they have not had authorization to cross into Spanish territory.
The same source added that hundreds of Moroccan trucks owners were threatening to strike at the port of Tangier to prevent Spanish trucks from crossing Moroccan borders as a response to the " treatment inflicted on them (Moroccans) by Spain."
As a result, the Iberian government has decided to grant 5,000 authorizations to Moroccan commercial truckers so they can cross the border without issue.
Al Massae added that Spanish authorities introduced the new measures to prevent strikes threatened in Tangier which would affect Spanish business.This is, however, only a temporary solution while Spanish and Moroccan authorities look for a permanent solution.
Recommended Reading :
* Difficult, arrogant, intolerant : How Moroccans see Spain
*Spain struggles with spike in migrant arrivals at North African enclave