Spain's dictionary updated to include gay marriage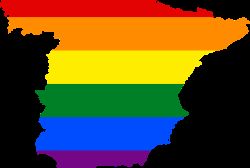 Spain legalized gay marriage seven years ago, but only this month has its official dictionary been updated to include a definition.
The Los Angeles Times reports that the Royal Spanish Academy, which regulates the Spanish language, expanded the definition of marriage in its online dictionary, defining it as "under some laws, the union of two people of the same sex."
The change is one of 1,700 made to Spain's dictionary since 2001.
"Blogueros" are now officially recognized typing away on their blogs. The "Popemobile" is now known en español as the "papamovil." And the mingling of English and Spanish? That's "espanglish," the Times reported.
Spaniards can get "friki" on the dance floor, "chatear" online, play "sudoku," or "okupar" their cities in protest. They might identify themselves as "cienciologos" – what Californians know as Scientologists.
Perhaps most tellingly in this uneasy year for the euro, the academy has now christened "euroescepticismo" as "distrust for the political projects of the European Union."
The Academy "doesn't promote words," its secretary, Dario Villanueva said when the changes were announced. "It records what people use."
Recommended Reading :
* Spain clarifies dictionary definition of 'Gypsy'
* Spain changes official definition of Franco to 'Dictator'