Terror suspect arrested in Mallorca was planning "massacre" on the island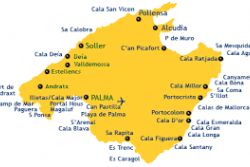 Abdelkader Mahmoudi, one of the four jihadists arrested on Wednesday in Mallorca, was planning a knife attack on the island, in the main square of the town of Inca. After questioning Mahmoudi and the three other men arrested on Wednesday, High Court judge Santiago Pedraz has ordered the four to be held in custody.
After listening to telephone conversations as well as analyzing material confiscated by police, the judge has concluded that the four men are members of a group set up by Tarik Chadlioui, a Salafist imam who has recruited people to Jihadist cells and who has traveled from abroad to Mallorca repeatedly to build a terrorist structure.
The group is accused of spreading propaganda and indoctrinating members to carry out terror attacks while at the same time making videos to help attract combatants. One recruitment video, in which three of the arrested men appeared, was posted on a channel with more than 12,000 subscribers. The video tells the story of the radicalization of a young Muslim in Spain who then decides to leave for Syria to join the so-called Islamic State.
According to the indictment, Abdelkader Mahmoudi had declared his intention to become a martyr and "would have planned violent acts (slaughter in the main square of Inca, stabbing passers by)." Mahmoudi is also accused of preparing and sharing Jihadist material on instant messaging. Videos were found on his phone of public executions.
The supposed leader of the group was Abderrahman Farid, who allegedly organized indoctrination meetings and looked for new recruits. Working with him was Azzouz Azdad, who took part in the preparation and distribution of Jihadist content. The judge says Azdad took money donated by the religious community for his own uses.
The arrest of the four men came as part of a joint operation between intelligence agencies in Spain, Britain and Germany that began on Tuesday afternoon. There has also been an arrest in Britain and another in Germany.
Recommended Reading :
* Ex SAS tackle terror threat to Brits in Spain
* Spain suffers most from terrorism with highest number of victims