Spain's bank bailout fund FROB books loss of 1.7 bln euros in 2016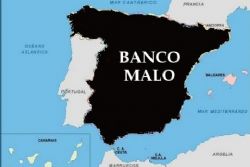 Spain's bank bailout fund FROB said on Friday it had booked a loss of around 1.7 billion euros in 2016, compared to 1.5 billion a year earlier, due to a valuation cut of its state-controlled lenders BFA-Bankia and BMN.
FROB said it had cut its valuation of both lenders by 1.39 billion euros, with BMN accounting for more two-thirds of that.
Earlier this week, Bankia and BMN agreed to a 7.8-for-1 share swap deal, valuing BMN at around 825 million euros, or 0.4 times book value. That was below market expectations of between 0.45 to 0.6 times book value, according to Deutsche Bank and UBS analysts.
As a result of the FROB's latest valuation, the state's 65% in BMN is worth around 536 million euros compared to the 1.6 billion euros originally injected, a potential 1 billion euro loss on its investment.
The state plans to recover some public funds injected into the Spanish banking sector through partial divestment by Bankia, which could take place later this year.
The FROB is expected to control around 66.6% of the new merged entity.
Recommended Reading :
* Bank of Spain says structural reforms needed to further reduce deficit
* Spanish Bank bailout cost taxpayers EU41.8 Bln