Over 65% of Catalans Likely to Vote for Leaving Spain at Referendum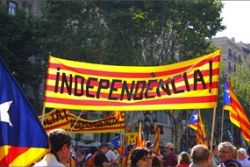 According to the DYM survey made for El Confidencial newspaper, 70.1% of the surveyed Catalans are likely to participate in the independence referendum, of whom 28.4 percent are projected to oppose the regionís separation and 6.2 percent either have not made up their minds or refused to disclose their opinion on the issue to the pollster.
The poll showed that Catalanís opinions change in the case that the question for the referendum is formulated in the manner the regional government wants, namely "Do you want Catalonia to become an independent state with the republican system of government ?" More precisely, when asked the aforementioned question, 47.0% of Catalans are forecast to vote for independence, whereas 44.4% are likely to oppose the change.
In addition, 11.3% of Cataloniaís citizens have not decided whether to come to the polling stations and 17.5% plan to ignore the vote.
When asked about holding the referendum without Spanish authoritiesí authorization, 61.0% of Catalans expressed their support for the initiative, while 32.2% do not approve it.
Cataloniaís President Carles Puigdemont, who pledged to look for an agreement on independence from Spain already in fall 2016, said on June 9 that the regionís independence vote would take place on October 1, 2017. The move came when, in late May, Spanish PM Mariano Rajoy refused to hold Puigdemont-proposed talks on the terms and conditions of the referendum in which the citizens of Catalonia would decide the political future of the region.
Previously, approximately 80.0% of the Catalans who took part in the non-binding referendum on the region's status as part of Spain on November 9, 2014, voted in favor of Catalonia becoming an independent state. Madrid declared the referendum unconstitutional.
Recommended Reading :
* 60% of Catalans reject unilateral declaration of independence
* Catalonia prefers greater autonomy over independence from Spain