Spainís unemployment falls by 100,000 in June as tourism season kicks off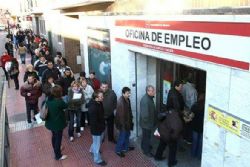 Once again, June has proved one of the best months for Spainís labor market: the number of people registered as out of work at the countryís unemployment offices fell by 98,317 people last month, with 87,692 people signing up to the countryís Social Security system, according to Employment Ministry figures released on Tuesday.
The steady improvement in the labor market since 2014 has seen unemployment come down to 3.36 million. The total number of people paying into the Social Security system is now 18.4 million, with 672,835 new affiliates added over the last 12 months, a 3.79% increase on June 2016.
In Spain, tourism, economic recovery and employment go together, and this is never clearer than in spring and summer. In June of 2016, the hospitality sector provided the greatest number of new additions to the Social Security system: 36,448 workers; next came retail (31,344), followed by other sectors such as administration, health, the services sector and industry, which all took on new workers to cover the needs of the summer vacation period.
The Social Security fund has seen a steady growth in new contributors for the last 43 consecutive months.
At the same time, June once again revealed the negative side of Spainís decade-long economic crisis: there were more than two million temporary and reduced-hours contracts signed in June alone; of the total number of new hirings, just 7.9% were indefinite contracts.
The latest figures suggest that when the quarterly workforce survey known as the Encuesta de Poblaciůn Activa (Active Population Survey, or EPA) is published at the end of July, around 27% of people will be employed under temporary contracts. By the end of 2017, a record 20 million contracts will have been signed in one year. So far this year, 10.54 million contracts have been signed, a million more than for the same period last year, with 2016 ending with 19.98 million contracts.
Recommended Reading :
* Spain sees 28 Mln Foreign Tourists until May
* Spanish economy 'reliant on tourism boom'