Bare-chested Pamplona marchers call for end to bull runs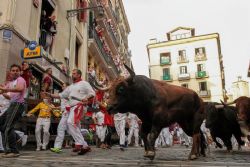 Around 100 shirtless protesters covered in red powder called for a ban on bullfighting and bull runs as they marched through the streets of Pamplona on Wednesday, in a prelude to the northern Spanish city's famous bull festival.
The activists from animal rights groups People for the Ethical Treatment of Animals (PETA) and AnimaNaturalis wore horns on their head and bore slogans including 'Stop Bull Fights' painted in black on their chests.
The annual San Fermin festival draws thousands from across the world to brave the 875-metre course through the narrow streets of the medieval city, along which runners in white shirts and red scarves are chased by bulls.
The first bull run in this year's festival takes place on Friday.
Recommended Reading :
* Spain's rat-throwing Fiesta slammed by animal rights
* Almost 500 people arrested in Spain for animal abuse in 2016