Spanish royal visit to UK will highlight expat issues and economic ties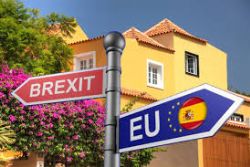 The king and queen of Spain will travel to the UK on Tuesday on an official visit that, it is hoped, will lay the groundwork for bilateral relations between both countries once Britain exits the EU.
The agendas of King Felipe VI and his wife Letizia are filled with very specific plans that go well beyond the ceremonial events that typically make up official state visits by foreign dignitaries.
The Brexit process is going to break up the framework used for bilateral relations between the two countries over the last 30 years, and a new one must be developed.
At the last official state visit to the UK, back in 1986, Spain was just joining the EU and the feeling was very different to today's climate of uncertainty.
Spain could be particularly exposed to the effects of Brexit, as there are intense bilateral exchanges in areas such as investment and tourism.
Under the EU umbrella, bilateral trade has grown to reach more than €30.2 billion in 2016, with a €7.9 billion surplus for Spain. And Britain has become the main destination for Spanish investment, to the tune of €82.5 billion accumulated to 2015. Several studies show that Spanish UK was the second-largest foreign investor in Spain in 2015, with a contribution of €44.7 billion.
As for tourism, Spain is Britons' destination of choice. British tourists to Spain numbered 17.8 million last year, representing the largest foreign group by far. Every year, 35 million passengers fly to and from both countries, and Spain has the most air connections to Britain of any country.
There are around 800,000 British nationals living in Spain, half of whom own property there, according to diplomatic sources (although only 300,000 of them are officially registered as having Spanish residency). Meanwhile, there are 130,000 Spaniards registered as residents in Britain, although the real figure could be closer to 260,000.
British nationals also play a relevant role in the local economies of Alicante province (74,000 registered residents) and Malaga (50,000). And around 7,000 Spanish workers cross the border into Gibraltar every day to work in the British overseas territory.
In addition, a recent report by the UK Office for National Statistics found that of the 68,200 Spanish citizens officially working in the UK, 78% were working in the following sectors: public administration, education and health, banking and finance, and hospitality.
On the education front, there are nearly 11,000 Spaniards studying at British universities, and around 5,000 Spanish researchers at British centers of higher learning. Spanish is taught at 70% of public high schools and 89% of private ones.
A three-pronged approach
With these figures in mind, the Spanish royals' visit to the UK has been structured around three main themes. The first focuses on the human aspect of the relationship and seeks to "highlight the extraordinary contribution" made by Spanish residents in Britain, and to send this community a message of support to allay existing concerns about its future.
The second theme is business-oriented. The monarchs will underscore the influence of Spanish firms in Britain, such as the Santander banking group, Telefónica (which owns O2), Iberdrola (owner of Scottish Power) and Ferrovial (the top stakeholder at Heathrow airport).
The third underlying theme will be the need to preserve bilateral relations outside the protective framework of the EU. This will be the purpose of Felipe VI's address to British parliament on Wednesday, and of his Thursday meeting with Prime Minister Theresa May at 10 Downing Street. Meanwhile, Foreign Minister Alfonso Dastis and other members of the Spanish delegation will be meeting with their British counterparts to discuss similar issues.
Recommended Reading :
* Spain's King Felipe to address Parliament during upcoming UK visit
* Twice as many Brits in Spain than Spaniards in Britain