How airport car parking costs vary across the UK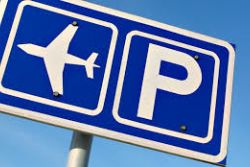 The most expensive UK airport parking costs three times more than the cheapest, while simply dropping off a passenger can set a driver back £8.50, a study has found.
The most expensive parking was found at Luton airport, where a two-week stay in their standard on-site car park came in at £191, the online investigation by Admiral insurance revealed.
Exeter was the cheapest, where an equivalent space cost just £65 for the same amount of time.
Meanwhile, the study found Stansted charges the highest drop-off rate at £8.50 for 15 minutes, followed by Luton and Doncaster at £8 and £6 respectively.
Six airports offered a free 15-minute stay.
Admiral compared three online car parking prices for an on-site space at each of 30 airports across the UK to cover a two-week break in the summer holidays, finding a "postcode lottery" for a 2.4 metre spot.
The average car parking rate for two weeks came in at £111, although those flying from Luton will pay £80 more.
The second most expensive airport was London City at £181, followed by Gatwick North at £175 and Gatwick South at £167.
Those flying from Heathrow terminals 2, 3 and 4 will pay £146, and £10 more at T5.
In comparison, six airports out of 30 offer a free 15-minute stay.
Also ranked in the most expensive airports for drop-offs are Luton at £8, Doncaster at £6 and Edinburgh and Cardiff, which both charge £5.
Admiral spokesman Alistair Hargreaves said: "We all know that an overseas holiday in the summer time can be costly, but our investigation has revealed that holidaymakers can end up feeling short-changed before they've even boarded the plane.
"This study demonstrates that airport parking prices are a postcode lottery with extortionate price discrepancies for the same 2.4 metre-wide car parking space, depending on where you are flying from.
"By planning ahead and researching other car parking options, such as those off-site and factoring these prices into the total cost of the holiday before booking anything, consumers can make sure there are no surprises."
Recommended Reading :
* Spain airport parking companies continue to break the law
* 25 out of 29 Car parking companies at Alicante Airport 'illegal'