Catalan police chief resigns in run-up to independence referendum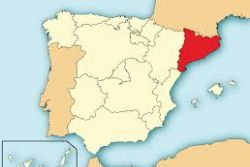 The head of Catalonia's police force resigned on Monday, just two and a half months before a referendum on independence from Spain which has been planned by regional separatist leaders but is staunchly opposed by the central government.
A spokeswoman for the northeastern Spanish region's police confirmed that Albert Batlle was leaving but gave no further details.
The Oct. 1 vote on splitting from Spain poses a quandary for public workers in Catalonia, who will be caught between the demands of regional leaders and warnings from Madrid that they risk breaking Spanish law if they help a referendum go ahead.
Batlle's resignation comes days after three members of Catalonia's regional government also stepped down, ahead of the plebiscite which has ratcheted up a stand-off between Madrid and Barcelona and caused divisions even in the separatist camp.
Carles Puigdemont, who heads up the Catalan regional government, had already dismissed a senior member of his government earlier in July for expressing doubts over whether plans to hold the vote were viable.
Last week's reshuffle propelled some vocal defenders of independence into key positions.
Batlle, the police chief, had not publicly aligned himself with any side. But a small pro-independence party in the region had in recent days called him out for not being committed enough to the separatist cause, local media reported.
The conservative government of Spanish Prime Minister Mariano Rajoy has insisted that any referendum is illegal and will not take place as it is against the constitution.
The former head of the region, Artur Mas, has been barred from public office for two years for staging a symbolic referendum in 2014 after Catalonia's Superior Court of Justice ruled that vote was in breach of a court order.
Catalonia, a populous, wealthy region with its own language and distinct culture, has long harboured an independence movement and the drive to split from Spain grew stronger during the recent economic crisis.
Recent opinion polls show a majority of people in the region are in favour of holding a referendum on secession, though fewer than half actually support breaking away.
Catalonia will declare independence from Spain and launch a process to create an independent republic within 48 hours if voters back secession, separatist parties have outlined in a draft bill which is yet to pass through the local assembly.
If "no" wins, an early election would be called to form a new regional government.
Recommended Reading :
* Catalonia to split from Spain within 48 Hours of secession vote referendum draft bill
* Spain excludes Catalan Police from Interpol