Spain: four drownings in Valencia region within one day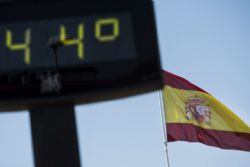 The ongoing heatwave in Spain has brought tragic side effects in the Autonomous Community of Valencia, with four people confirmed as having drowned on Monday, the Spanish media reported.
Three of the drownings took place at the beaches of Malvarossa, the Mareny Blau and the Cura de Torrevieja in different areas of Valencia, and one at a private swimming pool in the inland town of Xativa.
At least three of the victims were found to be 70 years old or older.
Spain is currently enduring the fifth day of heatwave, which has seen red, yellow and orange alerts for temperatures approaching and sometimes passing 40 degrees centigrade since last Thursday.
A report published by the Spanish Royal Federation of Lifeguards at the start of July showed that 209 people had drowned in Spain in the first six months of 2017.
Recommended Reading :
* Heatwave sees record temperatures in Southern-Central Spain
* Spain braces for Summer as temperatures begin to soar