IMF Upgrades Spain Growth Forecast, Warns of Reform Slowdown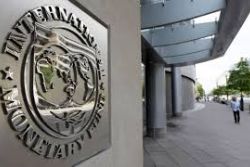 The IMF upgraded Spain's growth forecast, citing an "impressive" recovery even as it warned of a slowdown in reforms and unsolved crisis legacy issues.
The Washington-based fund expects the euro area's fourth-largest economy to expand 3.1% this year, adding there's "upside risk" to that forecast as the "momentum created by past reforms may be bigger than estimated." The revision from 2.6% in April is the IMF's second upgrade in 7 months and gives a fresh boost to the minority government of Mariano Rajoy.
As part of its mission report to Spain, the IMF said the four-year recovery continues to benefit from the impact of past reforms and a shift in its growth model toward a more export-oriented economy that has replaced an oversized construction sector. The review also noted credit availability is improving and private-sector debt is declining.
"The economy is stronger, more competitive, more resilient," said Andrea Schaechter, head of the Spanish mission at the IMF, in a news conference in Madrid. "But there are still challenges that need to be addressed to maintain sustained growth such as high unemployment and public debt."
While the pace of job creation has intensified, high unemployment is still a drag on growth over the medium term and public debt is too high at around 100% of output, leaving little room to absorb shocks, the IMF said. Even so, the IMF sees the economy growing 2.5% next year, said Schaechter.
Spanish Banks
In terms of the banking sector, which underwent a major overhaul in 2012 when the Spanish government was forced to seek a bailout from European creditors to prop up failing lenders, the IMF said the financial sector has emerged leaner and stronger. It also noted the resolution of Banco Popular Espanol SA last month by European authorities and its acquisition by rival Banco Santander had removed a "source of uncertainty."
"We think it was done swiftly and removed an element of uncertainty in the Spanish banking system and the euro area in general," said Udaibir Das, division chief at the IMF, speaking in Madrid. "We don't see spillover risks."
Still, while pointing out that solvency has improved for most banks and non-performing loans have come down notably since the crisis peak, the IMF urged institutions to accelerate the clean-up further ahead of potential uncertainties such as less stimulus from the European Central Bank and new regulatory requirements.
As part of its recommendations, the IMF again called for a review of VAT rates, which it argues are significantly lower as a share of GDP than those charged by Spain's European peers. The Spanish government has repeatedly rejected proposals from the IMF to increase VAT arguing it could hurt consumption and hit services and tourism. Budget Minister Cristobal Montoro said the government has no plans to increase taxes.
Recommended Reading :
* Spain rises growth forecast for 2017 - 2018
* Spain to raise 2017 economic growth forecast to 3.0%