Spain likely to meet 2017 deficit goal - budget watchdog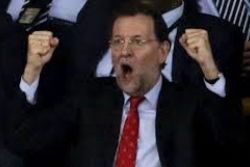 Spain is likely to meet 2017 public deficit goals agreed with Brussels, though tax revenues are lower than targeted and it will be a close call, the country's budget watchdog said on Wednesday.
Spain is one of the few countries under the remit of the European Commission's excessive deficit procedure, which involves strict controls and deadlines, as its budget gap exceeds the recommended threshold of 3.0% of economic output.
Other EU member states that struggled to rein in public finances during recent recessions, including Portugal and Greece, have left or are set to leave the procedure shortly.
Spain has trimmed its deficit gradually after it spiralled during a double-dip recession, and is only scheduled to bring it below 3.0% in 2018.
The government is targeting a deficit of 3.1% for 2017, a goal which Airef, Spain's independent watchdog, said was reachable.
Airef said Spain was relying on keeping spending under control rather than improving its tax take, in spite of four years of economic recovery.
"Almost all of the adjustment is coming from the spending side of things and not from revenues," Airef Chairman Jose Luis Escriva told a news conference.
Including funds used to bail out Spanish banks in 2012, the deficit was 4.5% of GDP in 2016, within a goal of 4.6% agreed with the Commission.
Last year was the first time since PM Mariano Rajoy's conservative People's Party (PP) came to power in late 2011 that Spain met its targets.
Recommended Reading :
* IMF Upgrades Spain growth forecast, warns of reform slowdown
* Spain raises growth forecast for 2017 - 2018