Support for an independent Catalonia declining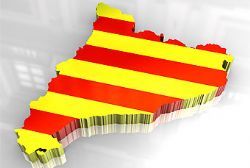 Supporters of Catalan independence have received a new setback, with the latest poll carried out by the regional government's Opinion Studies Center (CEO) showing public support for secession from Spain has dipped 3% since March.
The survey results released Friday show 41.1% of people in the region are in favor of independence, down from the 44.3% of four months ago – a drop described as "considerable" by CEO director Jordi Argelaguet.
Meanwhile, 49.4% of people surveyed by the CEO are against the region splitting from Spain, up from 48.5% in March.
According to the poll, the gap between the pro- and anti-independence camps is at its widest in several years – bad news for the Catalan regional government, which hopes to hold a referendum on the issue on October 1, now just over two months away.
In terms of projected participation, 67.5% of people polled by the CEO said they will vote in the October 1 referendum if it goes ahead, with 62.4% of this group saying they would vote yes and 37.6% saying they would vote no.
The Spanish central government is fiercely opposed to a unilateral referendum on the independence issue, arguing Spanish sovereignty resides with all Spaniards and all Spaniards would be entitled to vote in the event of any such ballot. Madrid has attempted to block the October poll in the Constitutional Court, insisting it will not go ahead.
The Catalan regional government – known as the Generalitat – held an informal referendum on November 9, 2014 which was ruled illegal by Spain's Constitutional Court. Spanish authorities turned a blind eye to avoid direct confrontation at a time when there was strong support for independence, with huge numbers of people turning out for street marches to demand a break with Spain.
However, with support for the independence cause waning, Madrid has been much firmer in its opposition to the planned October 1 referendum.
In fact, the political arm wrestle between Madrid and Catalonia continues and the recent appointment of a self-declared secessionist to head the Catalan Mossos d'Esquadra police force has upped the ante in the political game between Madrid and Barcelona.
Legal experts are now citing article 155 of the Spanish Constitution as the only ordinary way – short of declaring a state of exception – that the central government could legally take over the regional law enforcement agency should the latter decide to cooperate with the Catalan executive's secessionist plans.
Recommended Reading :
* Why is Catalonia the Spanish region pressing hardest for independence ?
* Over 65% of Catalans likely t vote for leaving Spain at referendum