Spain's economy close to recovering pre-crisis levels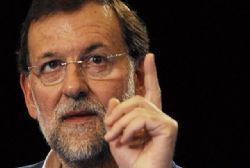 Spain's economic activity is on the verge of recovering pre-crisis levels, official figures showed Friday, thanks to strong domestic consumption, an improvement in manufacturing and a tourism boom.
PM Mariano Rajoy welcomed the news, but critics said that while the economy is getting back on track and unemployment is dropping, there are still more people out of work than before the crisis and inequalities have risen.
According to the National Institute for Statistics (INE), the economy grew 0.9% during Q2 this year compared to Q1.
In his pre-summer vacation press conference, Rajoy said the latest figures showed Spain had "recovered the wealth we had before the crisis."
He was referring to an index measuring GDP in real terms - which compensates for inflation and other seasonal variants -- that reached 104.83 in Q2 of 2017.
For the first time, this stands higher than the 104.36 measured from April to June 2008 - the last quarter before an economic crisis started biting into Spain's growth.
But the INE has stressed that these figures are still provisional, as is customary for the statistics agency which first gives a GDP estimate and later confirms or changes it in a final conclusion.
This will be published on August 24.
Spain has slowly been getting over the crisis, sparked in part when a property bubble burst in 2008.
The crisis saw countless people lose their jobs and forced the EU into a EU41.3 Bln rescue of Spain's banking sector in 2012.
When Rajoy came to power in 2011, he implemented widespread spending cuts, prompting huge protests as inequalities rose.
Now, Spain's economy is rising well above the eurozone average, and unemployment has dropped from a crisis high of close to 27%.
But at 17.2%, it is still the 2nd highest rate in the EU, and many of the jobs created are short-term and badly paid.
Official figures show there are still 1.5 million more people out of work than just before the crisis.
Economy Minister Luis de Guindos said last weekend that Spain may do better this year than in 2016 and 2015, when the economy grew 3.2%.
If this happens, Spain's GDP could reach around EU1.15 Trillion in 2017, against EU1.11 Trillion in 2008.
Recommended Reading :
* Spain should tackle pending banking sector adjustments : IMF
* Spain raises growth forecast for 2017 - 2018