As economy improves, Spaniards are taking vacations again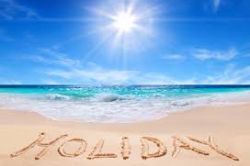 Experts are forecasting a rise in the number of Spaniards going on summer vacation this year. Following several years of decline due to the economic crisis, the tourism sector is optimistic that the trend will be reversed in 2017.
The Spanish Confederation of Hotels and Tourist Accommodation (CEHAT) does not keep separate figures on Spanish and foreign visitors, but it is confident that 2017 will be a record year for both.
This group notes that parts of Spain that traditionally receive very few foreign visitors – landlocked areas, the northern coastline and municipalities of 30,000 residents or less – have registered a visitor rise of over 40% from 2013, one of the worst years on record.
The CEHAT also says that small airports, typically used by national travelers, have been seeing greater activity.
"There's been a rise not just in the number of trips taken by Spaniards, but also their duration," says Ramón Estalella, secretary general of CEHAT. "During the crisis, many domestic visitors only spent three nights out over the Easter vacation period. And this year there were many who stayed the entire week."
Exceltur, the tourism industry's lobby group, shares this optimism. "The economy's strong performance and the containment of energy prices have encouraged spending by Spaniards during the spring, pushing up tourist spending," reads the group's second-quarter report.
The report underscores that all Spanish tourist consumption indicators have intensified their upward trend during the March-to-May period, helped along by the Easter break and good weather. The most relevant figures show a strong rise in non-hotel bookings: rural tourism grew 13.2%; licensed vacation rentals rose 11.8%; and campsite stays advanced 9.9%.
There was also a noticeable spike in spending on bookings for foreign trips (17.1%), as well as a 5.5% rise in luxury products such as four- and five-star hotel accommodations. Business trips also increased, according to figures released by the National Statistics Institute (INE).
José Antonio Pérez-Aranda, director of Barcelona University's Tourism School CETT, also sees 2017 as the year of complete recovery. "Domestic tourism has grown in volume and in travel days," he says. "Besides the economic recovery, there are other factors at play such as the emergence of the low-cost airline Level, which offers cheaper flights to Latin America and the US. We are seeing more short-term stays throughout the year, and an increase in trips abroad."
In 2016, Spaniards undertook 182 million trips, a 3.7 % rise from 2015, on which they spent €41.4 billion, or 9.1% more.
Although Spaniards are mostly visiting European destinations, the biggest spikes were in the Asia–Pacific region, where there was a 15.7% rise in Spanish tourist arrivals in 2016, according to ForwardKeys, a travel pattern analysis firm. There was also a 4.4% rise in trips to Canada and the US, and a 4.6% increase in trips to Latin America.
The fact that Spaniards are traveling abroad more is a sign that the domestic economy is doing better, because average spending abroad is much higher: €96 per person compared with €44 in Spain.
Last year, 39.5% of respondents in the INE's Living Conditions Survey said that they not even afford one week of vacation a year. During the worst of the crisis, that figure reached 45%.
Recommended Reading :
* Applying for an EHIC card as a Spanish resident
* State subsidized holidays for Pensioners