Masked men attack open-top tourist bus in Barcelona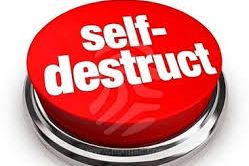 Tourists feared they were being attacked by terrorists when four masked men slashed their bus' tyres in Spain.
The gang also sprayed graffiti on the open-top tourist bus when it pulled up outside FC Barcelona's famous Nou Camp stadium.
Passengers, including families with young children, thought they were the victims of a terrorist attack, but responsibility has been claimed by a Marxist youth organisation.
A spokesman claimed they were acting in legitimate self-defence against a development model which wanted to turn the country into an 'amusement park' for the benefit of a minority driven solely by financial interests.
The men daubed the words 'El Turisme Mata Els Barris' in Catalan across the windscreen of the bus, which in English translates as 'Tourism Kills Neighbourhoods.'
City hall chiefs have sought to play down the attack by describing it as an 'isolated incident' although they admitted it was the work of an organised group.
No one has been arrested.
Barcelona mayor Ada Colau was criticised over her slow response to the incident amid claims city hall chiefs had tried to cover it up.
Recommended Reading :
* 2 Hour waits at security leave Barcelona Airport passengers fuming
* Beachgoers in Murcia face fines for nudism, loud music or urinating in Sea