Dozens of migrants run across border in Spanish enclave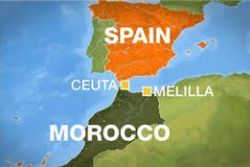 Dozens of sub-Saharan migrants crossed into Spain from Morocco in the early hours of Monday after running through a border gate into the enclave of Ceuta, emergency services said.
Migrants frequently attempt to storm the borders of Spain's two enclaves in northern Africa, Ceuta and Melilla, often clambering up fences which are up to 6 metres tall and topped by razor wire.
On Monday a group of more than 100 migrants ran through one gate in the fence usually used as a border control, surprising Moroccan and Spanish security forces, a Reuters witness said.
The Red Cross said it had assisted 186 people following the morning rush across the border, adding that four migrants were taken to hospital.
Once inside Spain's enclaves, migrants are usually taken to temporary shelters and later moved to the Spanish mainland, or returned to their country of origin.
Many migrants try to enter Spain as a means of reaching other parts of Europe. Arrivals through Ceuta and Melilla, as well as the number of migrants attempting to cross into Spain by sea from North Africa has risen this year, although the route between Libya and Italy remains the most popular.
The Red Cross said last week it had attended 7,400 migrants crossing into mainland Spain and Ceuta and Melilla so far this year, up from 3,600 in the same period a year ago.
Recommended Reading :
* Over 200 Syrian refugees travel to Spain from Libya in EU relocation program
* Spain to head EU mission against human smuggling in Mediterranean