New report on Spanish tourism boom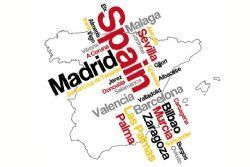 According to a new report from CaixaBank Research, an independent unit within a major Spanish bank, Spain will have record tourism in 2017 and even more growth in 2018.
Tourism contributes for more than 11% of the gross domestic product and 13% of the country's employment. It has been one of the pillars of the economic recovery of the last years and will remain as one of the engines of growth of the economy.
The latest figures show Spain had 20 million international tourists in the first four months of 2017, a record figure that is 10.3% above 2016. At this rate, during this year, the total will be 83 million tourists will arrive, a record and close to numbers in France. Since 2007, the number of international tourists has increased by more than 40%. And domestic tourism is also beginning to show signs of recovery.
Spain has benefited greatly from security problems in North Africa and the Middle East. But the reasons for the success go much further, as Spanish tourism is the most competitive in the world, ahead of France and Germany. The main reasons: a unique combination of natural and cultural environment, and good transport infrastructure and tourist services.
Spain has made a considerable effort to increase the quality of supply, aware of the advantages of differentiation. More than 50% of hotel spaces have a four or five star category, companies in the sector are more productive than their European counterparts and Spain has more restaurants than ever on the most lists of gastronomic pilgrimage sites.
The sector has clear opportunities for long-term growth that it can take advantage of. It is, by its nature, a sector of the future, since the proportion of expenditure that households devote to tourism tends to grow with their income level. Emerging countries are very likely to be a growing source of tourist flows, is happening with China.
The aging of the European population and other advanced economies drives a very attractive demand, since they are usually people of relatively high incomes and who travel outside the periods of maximum tourist influx. New technologies offer a world of opportunities, such as enhancing the customer experience by providing personalised local experiences.
Recommended Reading :
* Radical Basques against mass tourism in Spain
* How can Spain ensure the survival of it's world-beating tourism industry ?