People smugglers double price of sea journeys into Spanish territory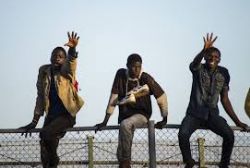 People smugglers have reacted to increased demand for their services by doubling their fees for migrants hoping to enter Spain illegally via the maritime route from North Africa.
According to a document from the European Union border agency Frontex, criminal organizations have raised prices from an average €500 in 2016 to double that figure this year. Almost 7,500 migrants arrived in Spain using the maritime route in the first six months of this year against 3,600 for the same period in 2016, figures from Spain's Interior Ministry show.
"Although [the situation] is unpredictable, we have to be prepared for several intense months in terms of arrivals," a Red Cross spokesperson said, noting that good summer weather would likely see more migrants making the sea crossing to Spain.
In June alone, 2,200 undocumented migrants tried to cross the Strait of Gibraltar to enter Spain and people smugglers now hope to make the most of this increased demand, according to the Frontex document.
These criminal groups offer different products depending on how wealthy their clients are, with some of the packages even providing for multiple crossing attempts. The options range from trips in inflatable toy dinghies to journeys by speedboat or even jet ski. The less risky the trip, the higher the cost is.
"They [migrants] pay between €100 and €1,500 to cross to Spain, depending on the crossing area and the type of boat used," the Frontex document states. This price can soar to €3,000 if people opt for a jet ski – a trip that takes around 30 minutes. "Usually the smuggler leaves the migrant on the shore and then quickly makes their way back to the African coast," says Frontex of this option.
"There are people ready to risk their life and if they lose it, we have to bear part of the responsibility when this situation repeats itself over and over again," said Socialist Party (PSOE) deputy Esther Peña during Interior Minister Juan Ignacio Zoido's most recent appearance in the Spanish Congress – one that came after 49 migrants died in the Alborán Sea while attempting to cross to Spain from Morocco.
At least 6,000 people have died trying to cross to Spain using the maritime route in the last 20 years according to Spanish human rights group Asociación Pro Derechos Humanos de Andalucía.
While the number of arrivals in 2017 is still a long way down from 2006 when 39,180 people made their way to Spain by sea, there has been an uptick in the last two years. In 2016, 8,162 people arrived in Spain in this way, double the number in 2015. And in the first six months of this year, the figure was nearly 7,500 against 3,600 in the first half of 2016.
Frontex says there are three main reasons for this increase. Despite rising costs, the Spanish route is still more affordable than entering Europe through central and eastern European because of the shorter distance involved. In addition, people smugglers have starting using speedboats, traditionally reserved for hashish shipping, meaning they can transfer more people in a shorter period. "At the same time, the dismantling of makeshift migrant camps in Morocco and Algeria might act as a 'push factor' in displacing migrants to other areas," according to Frontex.
Some 90.48% of people making the sea crossing from North Africa to Spain are men from sub-Saharan Africa, according to the Spanish Red Cross.
Recommended Reading :
* Dozens of Migrants run across border in Spanish enclave
* Spain to head EU mission against human smuggling in Mediterranean