Entry of Migrants to Spain Frustrated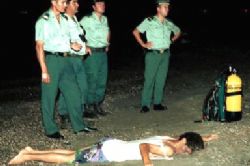 The security forces of Morocco and Spain frustrated today a new massive attempt of entry of illegal immigrants to the autonomous city of Ceuta, one of two Spanish enclaves in the north of Africa.
According to journalistic sources, the rapid police performance of both countries prevented nearly thousand sub-Saharan migrants from penetrating the neighboring fence six meters high, which separates the metropolis of the Moroccan territory.
The agents of Rabat managed to contain most of the African citizens, while approximately 300 that managed to come up to the wire fence, were repelled by members of the Civil Guard of the European country.
This incident was produced scarcely 24 hours after 187 immigrants entered Ceuta, after crossing to t the border facilities of Tarajal, the only corridor enabled for the transit of pedestrians and vehicles between Morocco and the autonomous city.
The group gained access during the Monday dawn entering in a rush to Ceuta, which along with Melilla - another Spanish enclave in the north of Africa - are habitual stages of massive attempts of revenue of undocumented persons.
Not long ago than one week, 73 persons, of an initial group of 200, reached also to skip the stockade.
The entrances for Ceuta and Melilla promoted 3,204 in the first half of 2017, 100,4 percent more if we compare to the same period of the previous exercise, reported recently the Spanish Minister of the Interior, Juan Ignacio Zoido.
In an appearance before the Spanish Deputy Congress, Zoido revealed that in the mentioned space of time, took place 2,266 attempts of jumping the fence in the perimeters of Ceuta, while in 2016, there was a total of 3, 472 attempts.
This situation joins the thousands of refugees who keep on coming to the coasts of Europe fleeing of the war in the worst migratory crisis in the continent since World War II.
Human rights defending organizations criticized Spain in repeated occasions for allowing the return of some immigrants to Morocco immediately after this type of incursions, which deprives them of the possibility of asking for asylum.
Recommended Reading :
* People smugglers double price of Sea Journeys into Spanish territory
* Dozens of migrants run across border in Spanish enclave