Spain Airport Strike from September 15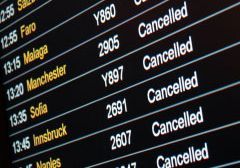 Spain's labor unions have called for 25 days of strikes among members of AENA, the Spanish airports authority, to begin September 15.
The announcement comes as security staff at Barcelona's El Prat airport continue their dispute over pay and conditions, while workers at two airports in northwestern Spain have threatened to stage partial stoppages.
The country's three main labor unions, the Workers' Commissions, UGT, and USO earlier this week that they would call industrial action by today if AENA did not respond to its demands.
AENA's 8,200 employees are calling for pay rises of around 8%, as well as the hiring of around 700 people.
Wednesday's move by the labor unions involves first presenting a request for arbitration. If no agreement has been reached within seven days, then labor unions will officially convene a strike with the Labor Ministry.
This approach should leave room to reach a solution. Otherwise, 24-hour stoppages will take place on the following dates in September: 15, 17, 22, 24 and 29, with follow ups in October: 1, 6, 11, 15, 27, 30, and 31. There would be stoppages in November: 3 and 5, with further action in December: 1,4,5,7, 8, 10, 26, 27, 28, 29 and 30.
The strikes would affect all essential services for the operation of the affected airports.
Civil Guard officers have taken over security at Barcelona airport since staff there launched indefinite strike action. Partial walkouts and flight delays in recent weeks have already disrupted holiday travel.
Recommended Reading :
* More delays as Barcelona Airport security workers go on strike
* How can Spain ensure the survival of it's world-beating tourism industry ?