Family stranded in Spain by Ryanair flight cancellation at gate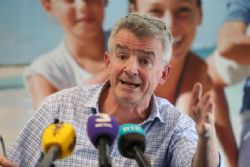 A family stranded in Spain after Ryanair cancelled their flight only discovered their plight after security officials rejected their boarding passes.
Stephen Smith from Greater Manchester was left stranded at Alicante Airport along with his wife and in laws after their return flight to Manchester on Saturday was one of several cancelled by the budget airline.
Ryanair cancelled around 2,000 flights citing a "mess-up with pilot rotas and over allocation of holidays" for pilot and cabin crew annual leave during September and October.
Ryanair offered alternative flights to Mr. Smith and his companions, however these would be SEVEN days later.
Instead, Mr. Smith had no other alternative than to fork out £1,000 on flights to Edinburgh, travelling the same day with Vuelling.
After arriving late into Scotland and an overnight stay in a hotel, Mr Smith drove his family home in a hire car.
Echoing the experience and sentiment by other stranded Ryanair passengers, Mr. Smith said "We were at the Ryanair desk a good while trying to get help but they weren't doing anything. I can't believe Ryanair have still not been in touch with us. It's appalling."
Many affected passengers have told of similar problems getting answers and solutions out of the airline.
In a statement released by Ryanair, only 2% of flights are affected by cancellations due to the backlog of annual leave to be taken by pilots and cabin crew.
However, Ryanair boss Michael O'Leary said the company faces a £17.7 million compensation bill as a result of the cancellations.
Speaking at a press conference on Monday, O'Leary said "Clearly there's a large reputational impact for which again I apologise. We will try to do better in future" adding customers whose flights were cancelled would be offered a transfer to another service "hopefully on the same or at worse the next day".
Ryanair passengers unsure whether their flight is affected or not, should contact Ryanair or check this comprehensive list compiled by the Independent .