Constitutional Crisis Nears as Catalan Independence Referendum Looms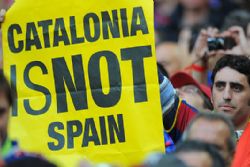 With only 10 days to go until Catalonia heads to the ballot box and potentially succession from Spain, time is running out for Madrid to get creative and halt the referendum which threatens to plunge the nation into a constitutional crisis.
Catalonia's independence referendum is set to be held on Sunday, 1st October.
Since the referendum was announced earlier this year, a huge publicity campaign has kicked in to get voters to the ballot box.
However, Madrid has done little to diffuse the situation and instead reverted to the constitutional tactics employed just THREE years earlier.
A previous, non-binding public poll on succession from Spain in 2014 was greeted with constitutional and legal action from Madrid. The referendum then was branded illegal and subsequently dismissed.
Catalonia is adamant it has a solid legal basis in law to carryout its planned referendum this time around and a recent law passed in Catalonia states independence must be declared within TWO day of the ballot if the majority vote for it.
Yet, Madrid is standing firm with the constitution. The Conservative PP government says the constitution is clear on the subject and cannot be amended.
The PP has largely used the constitution as a big stick to beat the regions with and force them to tow the line.
However, the Spanish Constitution has been amended over the years, since its creation in 1978 following the death of Spain's brutal dictator Franco.
But despite all of this, the amplified threat of independence has largely come around following grievances which brought in 2006 statute granting Catalonia greater autonomy from the Spanish state which was subsequently quashed just FOUR years later by a Constitutional Tribunal.
Latest polls suggest Catalan's are evenly divided on the issue of independence, but of those that actually turn out, the polls indicate TWO thirds would vote for independence.
What is clear and fairly crucial, is a discussion as to whether the Constitution is fit for its purpose in an evolving society is needed, more now than ever. Should Spain move beyond having autonomous communities to a fully fledged federal system?
No matter what happens, Catalan President Carles Puigdemont will hold the vote and Spanish Prime Minister, Mariano Rajoy will "stop at nothing" to halt the vote.
Hand in hand, both leaders seem content to walk over the precipice towards a Constitution crisis, one which threatens to dismantle to Spanish state.