Earthquake and Flood Simulation underway in Lorca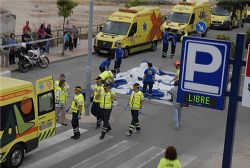 A massive, simultaneous Earthquake and Flood simulation is currently underway in Lorca, Mazaron and Puerto Lumbreras invoving many branches of the emergency services.
Organized by the Autonomous Community and the Military Emergency Unit (UME), the operation will activate the civil protection plans for floods and earthquakes (INUNMUR and SISMIMUR).
Speaking at a press conference on Tuesday, Counsillor Pedro Rivera said the primary objective of the drill is to "train attention and the coordination of resources" in the face of a major emergency and mobilize close to a thousand people, 400 of whom will be soldiers belonging to Battalion III of the Emergency Military Unit, as well as personnel and means of the regional administration, firemen and of the municipalities of Murcia and Cartagena, Red Cross, Guardia Civil, National Police Body, Civil Protection, among others." The simulation began on Tuesday, 19th September and ends later today, 21st September.
Under the simulation, an episode of heavy rains cause serious flooding in Lorca and Puerto Lumbreras whilst a simultaneous earthquake measuring 5.1 on the Richter scale occurs with the epicenter near Lorca.
Several emergency vehicles can be seen and heard streaming through Lorca responding to simulated incidents as well as many helicopters flying overhead.
It is the first time in the history of the area that both emergency protocols have been activated simultaneously. Yet, the simulation is not without precedent.
In May 2011, Lorca was devastated by TWO back-to-back earthquakes which killed 9 people and injured many more. Thousands were left homeless after their homes were either destroyed or condemned.
Then in September 2012, Lorca was once again struck by disaster after heavy rains caused severe flash flooding, killing 3 people, destroying homes and land in and around the city. Puerto Lumbreras bore the brunt of the flash flooding which caused nearby motorways and homes to collapse.
A specialist team from the Special Rescue Group (GERA) based near Madrid have also been working in the area installing sensitive monitoring equipment which will record temperatures and toxic gases located on the Alhama. The fault that caused the 2011 earthquakes in Lorca.
This gulf is considered the hottest in the world and GERA specialists will find temperatures of 40 degrees, a humidity level close to 100%, a low percentage of oxygen and presence of gases such as radon.