Euro falls to one-month low as political worries heighten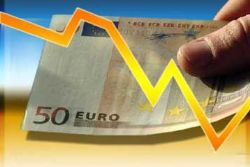 The euro fell to its lowest level in a month on Tuesday as worry about political fallout in Germany and other euro zone countries grew.
A speech by French President Emmanuel Macron, who has called for a fundamental overhaul of the European Union's single currency zone and whose ideas include creating a euro zone budget and a euro zone finance minister, failed to stem outflows from the single currency, which plumbed its lows of the day as he spoke.
Investors have shifted their focus to the euro zone's growing political divides in places such as Spain and Italy after the German election, said Joseph Trevisani, Chief Market Strategist at WorldWide Markets in Woodcliff Lake, New Jersey.
"The markets have been ignoring it, preferring to focus on the drama out of Washington, but the drama out of Washington has not affected the U.S. economy," Trevisani said. "The European problems are structural and political and deep."
The results of Germany's election, in which Merkel won a fourth term as Chancellor but saw her party with its worst showing since 1949, have forced Merkel to consider a new coalition, including the liberal Free Democrats (FDP), a party critical of Macron's ideas on Europe.
The euro slipped half a percent to as low as $1.1781(0.8767 pounds)EUR=, its weakest since Aug. 25, after falling around 0.9 percent on Monday - its heaviest one-day loss since December.
Commerzbank currency strategist Thu Lan Nguyen, in Frankfurt, said hopes for greater euro zone integration had been the main cause of a more than 10 percent appreciation by the euro against the dollar since the first round of France's presidential election.
The dollar index, which tracks the greenback against six major currencies, rose to its highest since Aug. 31 after the release of the U.S. Conference Board's consumer confidence survey that was in-line with lofty expectations.
Immediate focus was on what views might be expressed by Fed Chair Janet Yellen, who is due to speak in Cleveland at 12:45 p.m. EDT (1645 GMT) on "inflation, uncertainty, and monetary policy".
New Zealand's dollar extended the previous day's slide to its lowest since Sept. 7. It was down 0.9 percent at $0.7193 NZD=D4, having sunk after the country's National Party won the largest number of votes in Saturday's election but not enough seats to govern outright.
Recommended Reading :
* Euro Zone v Britain : Strong and Stable v Weak and Wobbly
* Spain calls for deeper Euro Zone integration, pooled debt