Guardia Civil Dispatched To Catalonia Ahead of Vote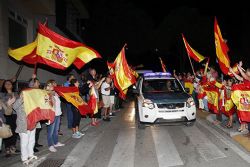 Guardia Civil battalions from across Spain have been dispatched to Catalonia ahead of a controversial independence referendum scheduled for Sunday, 1st October.
Teams from Huelva, Cádiz, Guadalajara, Santander, Murcia, Algeciras and Toledo have all been mobilized with many more expected to follow in the coming days.
The referendum this Sunday, which has drawn massive international attention, was under pinned by legislation introduced by the Catalan government. However, the Spanish Constitutional Court has suspended the legislation whilst it deliberates on a ruling concerning its legality.
Despite this, the Catalonian regional government is pressing ahead regardless.
National Police from across Spain have already arrived in the region. Several government officials and representatives have been arrested, as well as seizing documents and ballot paper in relation to the referendum.
The Catalan national police, Mossos d'Esquadra, have been ordered by the regional procescutor to take control of any polling stations in the region and identify those in charge .
Anyone attempting to participate in the vote will have their details taken and relevant documents confiscated.
The huge operation and show of force, involving multiple law enforcement agencies from across the country, is designed to prevent the referendum from taking place.
The Spanish Prime Minister, Mariano Rajoy, speaking in Washington alongside US President, Donald Trump, said a unilateral declaration of independence would be "very wrong",
Adding "There isn't an electoral committee, there isn't a team at the Catalan government organising a referendum, there aren't ballots, there aren't people at the voting stations."
Echoing Rajoy's sentiment, the US President said it would be "foolish" for Catalans to try and leave Spain. "I think that Spain is a great country and it should remain united," he said.
Successive Catalonian governments have long sought independence from Spain, whilst the population appears to be evenly split on the issue.
Recent polls suggest a win for independence, however the turnout is likely to be very low and unrepresentative of the population.
Videos of the departing Guardia Civil officers, showing crowds of cheering supporters waiving Spanish flags, were posted on social media and quickly went viral.