Bank of Spain warns Catalan secession push could put growth forecasts at risk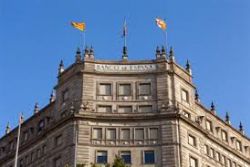 The Bank of Spain on Thursday warned that political tensions over Catalonia's independence drive could put growth forecasts at risk though left its expansion expectations for this year and next unchanged.
"In terms of the internal risks facing growth forecasts, the political tensions in Catalonia could eventually affect confidence, spending and financing conditions," the central bank said in its quarterly report.
However, until now, the bank had seen no impact from the Catalan process, it said.
External risks include the process of Britain leaving the EU, U.S. tax plans, the recent appreciation of the euro and any abrupt adjustment in asset prices in markets after years of high liquidity, it said.
Spain's gross domestic product (GDP) expanded by 0.8% quarter on quarter in the July to September period after quarterly growth of 0.9% from April to June.
The National Statistics Institute will report preliminary GDP foreacasts for the third quarter Oct. 30.
The bank said it expected the current expansive phase continuing in the medium term, boosted by an accumulated correction in economic imbalances which had built up during the economic crisis from 2008 to 2013.
"In particular, competitive improvements which have contributed to a sustainable positive external balance and a reduction of private indebtedness, provide a solid base for a prolonged recovery," it said.
The bank said it saw full-year growth of 3.1% for this year, 2.5% for next year and 2.2% in 2019.
Recommended Reading :
* Russian hackers keep banned Catalan referendum census site online
* Catalan Police ordered to take control of polling stations