Bank of Spain cuts Q2 debt-to-GDP ratio after INE revision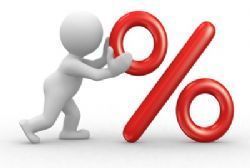 The Bank of Spain on Monday revised its Q2 public debt figure down slightly to 99.8% of GDP from an original reading of 100.0% following the National Statistic Institute's (INE) own revisions.
The change comes after INE raised its official GDP growth figures in early September to 3.3% year-on-year expansion in 2016, from an original reading of 3.2% and its 2015 figure to 3.4% from an original reading of 3.2%.
Spain ended 2016 with a debt-to-GDP ratio of 99.0%, the Bank of Spain said, down from an original estimate of 99.4%.
The government's end-of-year debt-to-GDP forecast is 98.8%, while it aims to cut debt to 97.7% of its economic output in 2018 and to 95.4% in 2019.
Recommended Reading :
* Bank of Spain warns Catalan secession push could growth forecast at risk
* IMF upgrades Spain growth forecast warns of reform slowdown