Court suspends Catalan parliament session to avoid independence declaration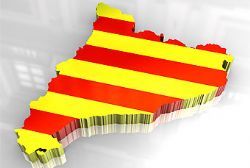 Spanish PM Mariano Rajoy on Thursday said there will be no talks with Catalan authorities until the latter first cancel their project for a unilateral declaration of independence. Rajoy, of the Popular Party (PP), urged Catalan premier Carles Puigdemont, of the Junts pel Si (Together for Yes) coalition, to return within the bounds of the Spanish legal framework, in order "to avoid even greater harm."
Asked if he has a solution to a crisis that is growing with each passing day, the conservative leader said that he does, then went on to reiterate a demand that the Catalan government has already ruled out entirely.
"The best solution is a speedy return to the path of legality, and a pledge that there will not be a unilateral declaration of independence, because that will also prevent even greater harm," he told the EFE news agency.
Yet in a televised address just hours earlier, Catalan premier Carles Puigdemont had insisted that he will not give up on his plans for secession for the region.
Following the referendum of October 1, when riot officers clashed with would-be voters, prompting protests over police violence on one hand and assertions that the rule of law had prevailed on the other, the confrontation between Madrid and Barcelona has escalated exponentially.
Puigdemont is requesting outside mediation as a last resort before unilaterally declaring independence. Members of CUP, the far-left party whose votes have been supporting Junts pel Si's minority government, said yesterday that independence will be declared on Monday at a plenary session of the Catalan parliament.
Today, Spain's Constitutional Court moved to pre-emptively suspend that session. The decision comes after the Catalan Socialists filed an appeal arguing that if this session declared independence, it would be doing so in violation of the Spanish Constitution and thus "annihilating" the rights of regional deputies.
But the Constitutional Court had also banned the October 1 referendum, which went ahead anyway. Catalan authorities have made a point of noting that they no longer obey a body that they see as a tool of the central government.
On Wednesday, the European Parliament held a debate in which the main message was for all relevant actors to sit down and talk their way out of the impasse.
But so far, neither side seems ready to make the kinds of concessions that the other side wants to see.
Rajoy's comments about avoiding greater harm could be construed as a reference to a constitutional provision known as Section 155, which has never been invoked in Spanish democratic history, but which could theoretically allow the central government to suspend home rule in a region.
The PM is under pressure from right-wing hardliners to invoke this provision and take charge of Catalonia's affairs.
FAES, a think tank presided by former PP Prime Minister José María Aznar – who was once Rajoy's mentor, but has since become a critic of his administration – on Thursday released a harsh analysis of the way the current PM is handling the crisis, and called on him to invoke Section 155.
"If he were to find himself unwilling to do so, or were forced to admit to his inability to take the step, then he should grant Spaniards the option of deciding which government, with what proposal, and with what kind of electoral support we need to deal with this critical juncture for Spain," says the report, suggesting the need for elections.
Asked if there are other options outside of Article 155, PM Rajoy told the EFE news agency that there are, but that first the Catalan government must return to the constitutional framework.
The 62-year-old leader said he is convinced that Spain will overcome this situation, as it has at other "very difficult" times in the past.
"Because it is my obligation and because that's why I am the head of government in Spain, I will do what I think needs to be done, what I think is best for Spain, at the time I consider best," he said. "I will listen to everybody, but it's my decision to make. I know it's not easy, but I also once had to make another decision that was not easy."
Recommended Reading :
* 3 Scenarios for Spain-Catalonia stand-off
* Catalonia crisis is painful for Spain