Catalan independence to be proclaimed on Monday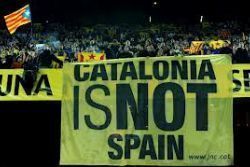 An independent Catalan republic may be proclaimed as early as next Monday, according to members of CUP, the far-left party whose votes support the governing Junts pel Sí (Together for Yes) coalition.
Both groups have filed a petition in the regional parliament to have Catalan premier Carles Puigdemont appear on Monday to provide an assessment of the independence referendum that was held on Sunday in violation of a Constitutional Court ban. The vote triggered unprecedented scenes for Spain as would-be voters clashed with police sent in to block the polling stations.
Mireia Boya, a deputy for CUP – which holds 10 seats in the 135-seat chamber – has stated that the Monday session will serve to "proclaim independence and the Catalan republic."
For his part, Puigdemont has told the BBC that he will declare independence "at the end of this week or the beginning of next." The regional leader is scheduled to make a televised appearance at 9pm local time on TV3, the main channel of the Catalan public broadcaster.
Only 24 hours earlier, King Felipe VI had addressed the nation in a speech that acknowledged the gravity of the situation and accused the Catalan government of "repeatedly, consciously and deliberately flouting the Constitution and their own Statute of Autonomy [Estatut], which is the law that acknowledges, protects and safeguards their historic institutions and their self-government."
Puigdemont told the BBC that he will declare independence "at the end of this week or the beginning of next".
In response, Catalan authorities said that "instead of calming the waters, he's poured on more gasoline."
But Xavier García Albiol, head of the Popular Party in Catalonia (PPC), said that "independence is not going to take place, not on the 9th, on the 10th or on the 8th."
García Albiol said he trusted the Mariano Rajoy administration and "our democratic institutions" to make the best decisions. "How we do it is not as important as the end result," he said, justifying the use of force as a legitimate tool of the state.
"Those who are perpetrating this coup are the ones who should end up paying the consequences," he added. "It is us in the Popular Party who are going to have a harder time of it. But between doing nothing and being willing to act and get our noses punched, we prefer the latter option."
Recommended Reading :
* Court suspends parliament session to avoid independence declaration
* 3 Scenarios for Spain - Catalonia stand-off