Final results in banned Catalan independence vote put "yes" on 90.18 percent - regional government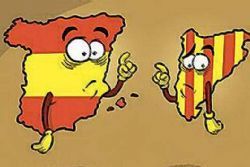 Final results in last weekend's banned Catalan referendum on independence from Spain showed "yes" votes winning 90.18% of votes cast against 7.83% of "no" votes, the Catalan regional government said.
The Catalan government put voter turnout at nearly 2.3 million people, or around 43% of registered voters.
The referendum was declared illegal by the Spanish government and courts. Catalans who favour remaining part of Spain mainly boycotted the ballot and many polling stations were closed.
Recommended Reading :
* Spain's CaixaBank to move from Catalonia
* 3 Scenarios for Spain-Catalonia stand off