Demand for ECB money spikes in tense week for Spain's future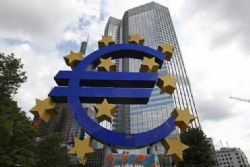 Banks borrowed more at the ECB's weekly auction on Tuesday than at any point over the past six months, in a week marked by market concerns about a potential break away of Catalonia from Spain.
Thirty-three euro zone banks took up a total EU21.3 Bln at the ECB's auction, at which they can borrow for one week to meet their day-to-day obligations.
It was the highest amount since March and broke a prevailing trend that has seen banks steadily reduce their reliance on ECB cash since 2015. A week earlier, the ECB had lent just EU3.2 in its Main Refinancing Operation (MRO).
Dealers and analysts speculated this could be a sign that banks were fearing jitters on the funding market if Catalonia breaks away from Spain, potentially cutting off its banks from ECB liquidity.
"Catalonia seems the most likely reason for the rise in MRO usage," Peter Chatwell, an analyst at Mizuho in London, said.
Two bank dealers who spoke to Reuters on condition of anonymity shared similar concerns.
Some Catalan residents have been shifting their bank accounts to lenders and branches in other regions of Spain and the country's borrowing costs hit six-month highs since a referendum on Catalan independence on Oct. 1.
While the majority of Catalans did not turn out for the vote, which was declared illegal by Madrid which sent riot police to prevent people casting their ballots, secessionist leaders said it had produced an overwhelming majority for breaking away from Spain.
Investors were awaiting a speech from Catalonia's secessionist leader later on Tuesday in which he could ask the regional government to declare independence.
The ECB, which declined to comment for this article, does not provide data on how much individual banks or countries borrow at its auctions.
Recommended Reading :
* Catalonia urges EU intervention in independence vote
* Bank of Spain warns Catalan secession could put growth forecasts at risk