Spain's housing sales increase by 16 pct in Aug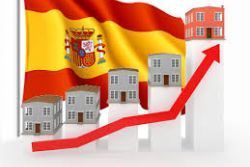 Spanish housing sales rose by 16% in August when compared with the same month of a year earlier, Spain's Statistical Office (INE) reported on Tuesday.
A total of 41,282 operations were registered in the 8th month of the year, with sales of resale properties increasing by 14.9% year-on-year to 33,886 and sales of new houses increasing by 21.3% year-on-year to 7,396 operations.
In August, 90.6% of the total number of purchases belonged to non-subsidized houses, whose sales reached 37,412 rising by 16.6% year-on-year, while sales of subsidized houses increased by 10.2% to 3,870 operations.
Spain's housing sales have been rising by four consecutive months in a row year-on-year according to the INE, which said that on a monthly basis, from July to August, housing sales increased by 6.3%.
Sales of second-hand houses rose by 5.7% from July to August, while those of new houses increased by 8.9%. Sales of non-subsidized houses rose by 6.5% from on a month-to-month basis, the INE said, while those of subsidized houses increased by 4.1%.
Recommended Reading :
* Spain's home mortgages rise by 32.9% in July
* Britons buy fewer houses in Spain after Brexit vote