Puigdemont's far-left partner tells him to proclaim a Catalan republic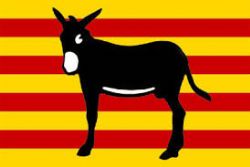 The radical far-left party that is supporting the minority government of Carles Puigdemont in Catalonia has sent the regional premier a letter demanding "the proclamation of the republic."
The demand made by CUP, whose 10 seats in the regional parliament are critical to Puigdemont's Junts pel Si (Together for Yes) coalition, comes after the regional premier made a highly ambiguous statement on Tuesday, first announcing Catalan independence then immediately putting the declaration on hold.
As baffled Spaniards and international observers wondered whether Catalonia had indeed declared independence or not, Spanish Prime Minister Mariano Rajoy retorted with a formal notification giving Puigdemont five days to confirm, with a simple yes/no answer, whether independence has been declared in Catalonia.
If so, Rajoy will invoke an obscure constitutional provision, Article 155, allowing the central government to temporarily take over Catalonia's internal affairs. This would constitute an unprecedented suspension of home rule in a highly decentralized country where regions enjoy significant powers of self-government.
In the meantime, the business community is reacting by changing their registered corporate addresses to Spanish cities to make sure they remain within the EU, should a Catalan republic be proclaimed and be left out of the union. Two major Catalan banks, CaixaBank and Sabadell, have already made the switch, as have the majority of the region's Ibex 35-listed companies.
In its letter to Puigdemont, the CUP – or Popular Unity Candidacy, whose ideology revolves around Catalan independence, euro-skepticism and anti-capitalism – demands an immediate "proclamation of the republic" because this is the only way to get Catalonia recognized as a political subject in the event of an international mediation that seems increasingly unlikely.
"If [the central government] mean to keep applying the provisions of Article 155 of the Spanish Constitution, let them do so with the republic already proclaimed," reads the letter.
Any other reply to Rajoy's notification, says the CUP, would mean "endorsing each and every one of their threats, their contempt and their repression."
"To remain motionless in the face of their threats, their denials and their authority will not let us exist as a people, it will not let us govern ourselves or advance in the conquest of more rights and freedoms."
The letter acknowledges that the idea of a Catalan republic is not getting support from states or from the markets, but claims that it would have the support of the people.
While yielding 90% of yes votes, the illegal referendum of October 1 was held in violation of international guidelines regarding organization, campaigning, turnout rates, voter census, oversight and vote tally. Around 43% of eligible voters cast their ballots, while a majority of remainers stayed home in protest.
But images of riot police dragging people away from polling stations after being sent in to stop the vote made world headlines and prompted calls by the international community for Madrid and Barcelona to sit down to talks and resolve their dispute peacefully.
This week, Rajoy's Popular Party (PP) and the main opposition Socialist Party (PSOE), with endorsement from Ciudadanos, announced the possibility of constitutional reform to find a better fit for Catalonia within Spain.
Recommended Reading :
* Spain's creditors size up cost of Catalan independence
* 3 scenarios for Spain-Catalonia stand off