Spain's DGT improves road safety for cyclists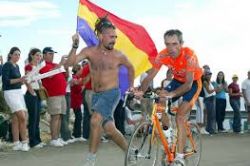 In order to address the 7,673 accidents that involved cyclists in 2016 - including 67 fatalities and 736 injuries - the Directorate of Traffic (DGT) is trialing dynamic cyclist signalling equipment at 4 locations in La Rioja, northern Spain, where road visibility is impaired. The project is valued €55, 000 (£49,000).
The technology is able to detect single cyclists or groups of cyclists on the roads and activate a luminous signal to alerts drivers, allowing them to adopt the appropriate driving behaviour.
Locations for the system include at several km of four conventional LR-111 highways; LR-250, LR-254 and LR-255, where the visibility of the road is reduced. Three of these roads are tracks included in the catalogue of Protected Cyclist Routes.
Jaime Moreno deputy director of operations and mobility at the DGT said: "This measure is part of the Plan of Urgent Measures announced by the Minister of Interior at the beginning of the year to increase the prevention of accidents of cyclists ." He added that "the idea is to extend this type of action to other roads where the influx of cyclists is important so that cyclists can move more safely."
Recommended Reading :
* Spain to ramp up on roadside alcohol tests in bid to protect cyclists
* More than 400 cyclists killed on Spain' roads in in 10 years