Spanish Constitutional Court website down after 'Anonymous hack'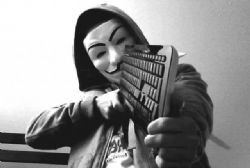 A hack purportedly executed by Anonymous, the online activist group, has blocked the website of the Spanish Constitutional Court. On Saturday morning, the court's website was unreachable online and displayed a connection error message.
The website blackout has been linked to Anonymous, which expressed its desire to oppose the Spanish government's attempts to stifle the region of Catalonia's autonomy from the rest of the country.
Spain's Department of National Security said that on Friday the group had announced its intention to target government pages, in solidarity with those seeking independence for Catalonia.
"Hacktivist group Anonymous, through associated Twitter accounts, is announcing a massive cyberattack for tomorrow… under the name '#OpCatalunya' and '#FreeCatalunya'," the Department of National Security tweeted.
A video linked to members of Anonymous suggested that the hacking collective would undertake an operation to 'free' Catalonia.
It was shared online in September, ahead of the 1 October independence referendum.
"We wish to state that the Catalan people's desire to express their will via a referendum is the majority view and cuts across all strata of society and it is in keeping with the civic, peaceful and democratic determination expressed in the multitude of demonstrations held," Anonymous said in its online statement.
The Spanish government, which declared the referendum illegal, has been criticized for its reaction to the vote and the violent crackdown on polling day. Hundreds of people were injured in the region on October 1 as police attempted to prevent the referendum from going ahead.
Spanish Foreign Minister Alfonso Dastis defended the actions of security personnel, saying the police operations, which left more than 800 people injured, were "proportionate".
On October 10, Catalonia President Carles Puigdemont declared the region independent, before quickly suspending the declaration pending talks with the Spanish government.
Recommended Reading :
* Rajoy : A Leader forced to act to restore the law in Catalonia
* Spain rejects Catalan reply, paving way for suspending self-rule