EU Commission says it has not changed its position on Catalonia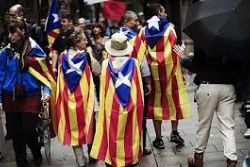 The European Commission said on Monday it had not changed its position on Catalonia after Spanish Prime Minister Mariano Rajoy announced he would invoke special constitutional powers to fire the regional government and force a new election.
"The position is well known. We've always said we respect the constitutional and legal arrangement of Spain," a Commission spokesman said.
He added that the measures taken were "precisely to be seen within that constitutional context".
Recommended Reading :
* Why is Catalonia the Spanish region pressing hardest for independence ?
* Catalans woo immigrants in quest to split from Spain