Spain's Q3 unemployment rate falls to lowest since 2008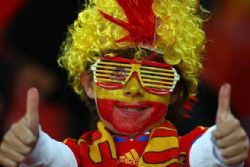 Spain's unemployment rate fell to its lowest level in almost nine years in the third quarter, mostly boosted by jobs growth in the services industry, underlining a recovery from a prolonged economic slump, data showed on Thursday.
Spain's unemployment rate soared to nearly 27% at the beginning of 2013, the height of the economic crisis, after a burst property bubble and sliding consumer spending almost forced Spain to request a full sovereign bailout.
Since the economy turned, around mid-2013, growth has broadly held above the European average and is expected to top 3.0% this year, boosted by rising domestic demand and helping create jobs, especially in the services sector.
In Q3, the unemployment rate fell to 16.38%, according to the National Statistics Institute, down from 17.22% in the previous quarter and slightly below a Reuters poll of 16.50%.
"More than 2 million jobs have been created since the worst point of the crisis ... so these are positive figures," Economy Minister Luis de Guindos said during a radio interview.
The workforce, or the total number of people in, or available, for work, was down from a year earlier by 67,400 people while the total number of employed rose 521,700 to 19.05 million.
Of those, just over 300,000 jobs were created in the service sector, while employment rose by 139,400 in industry, 33,200 in agriculture and by 47,400 in construction, lifted by rising real estate demand and prices.
Recommended Reading :
* Spain's July jobless falls by 0.8% m-m to 3.3Mln
* Direct Catalonia crisis key risk to Spain rating : S&P