Spain's Rajoy Fires Catalan Leader, Calls Regional Elections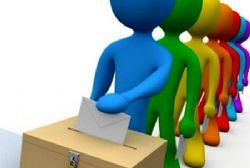 Spanish Prime Minister Mariano Rajoy dismissed the Catalan regional government and dissolved its parliament, calling a regional election for Dec. 21, as he sought to restore control of the rebel region.
Firing Catalan President Carles Puigdemont and the rest of his cabinet were the first of several measures announced by Rajoy in a televised address Friday, hours after the Senate gave him extraordinary powers under Article 155 of the Spanish Constitution.
The Catalan Parliament earlier in the day approved a declaration of independence during an improvised plenary session that saw lawmakers depositing their votes in a ballot box as they tried to shield themselves from legal repercussions from the Spanish courts.
"They tried to stage a kidnap and steal part of the community from the people," Rajoy said.
The central government also fired a police chief from the regional force, shut down most of the Catalan government's diplomatic service and eliminated the offices of president and vice president of the region. Rajoy created a special department in Madrid to oversee the measures.
Recommended Reading :
* Why is Catalonia the Spanish region pressing hardest for independence ?
* Catalans woo immigrants in quest to split from Spain