NATO says Catalonia issue domestic matter to be resolved by Spain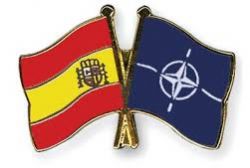 Spain remains an important NATO ally and Catalonia is a domestic issue that should be resolved by the Spanish institutional framework, a NATO official said on Friday.
Asked about the Catalan parliament's declaration of independence, a NATO official said: "Spain is a committed ally, which makes important contributions to our shared security.
The Catalonia issue is a domestic matter which should be resolved within Spain's constitutional order."
Recommended Reading :
* Why is Catalonia the Spanish region pressing hardest for independence ?
* Catalans woo immigrants in quest to split from Spain