Gold rises as crisis over Spain's integrity deepens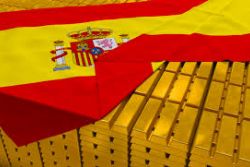 Gold futures on the COMEX division of the New York Mercantile Exchange rose on Friday as crisis in Spain boosted safe haven demand.
The most active gold contract for December delivery went up 2.20 dollars, or 0.17%, to close at 1,271.80 dollars per ounce.
Lawmakers in Catalan region of Spain voted Friday to secede from Madrid. The unilaterally move was described as a "crime" by Spanish PM Mariano Rajoy, who immediately announced to dissolve the local parliament and called for regional elections in Catalonia on Dec. 21.
The crisis in Spain prompted safe haven appeal and the prices of gold futures were pushed up.
However, the rise of gold was curbed by upbeat U.S. stocks and a firm dollar.
The Dow Jones Industrial Average rose 41.68 points, or 0.18% to reach 23,442.54 points as of 1617 GMT.
Meanwhile, the U.S. dollar index, a gauge of the greenback against a basket of other major currencies, went up 0.42% to 95.04 as of 1603 GMT.
As for other precious metals, silver for December delivery fell 5.9 cents, or 0.35%, to close at 16.752 dollars per ounce. Platinum for next January went down 7.5 dollars, or 0.81%, to settle at 914.60 dollars per ounce.
Recommended Reading :
* Why is Catalonia the Spanish region pressing hardest for independence ?
* Catalans woo immigrants in quest to split from Spain