Bank of Spain warns of possible growth slowdown due to Catalonia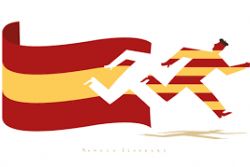 The uncertainty over the independence drive in Catalonia could lead to slower economic growth and lower job creation in the next few months in Spain, the Bank of Spain said on Thursday.
If the secessionist movement intensified or dragged on it could have an effect on economic outlook and financial stability in Spain, it said.
In its November report, the Bank of Spain said that in the worst case scenario, the political uncertainty caused by an illegal secessionist drive could reduce Spanish economic growth by 2.5 percentage points between end-2017 and 2019.
However, a quick resolution of the Catalan independence drive could mitigate the risks for the Spanish economy, it added. The government currently forecasts the euro zoneís 4th-largest economy to grow 3.1% this year, but the standoff with Catalonia over its independence ambitions has prompted Madrid to slash growth projections for next year.
Spainís Economy Minister recently said the Spanish economy could grow by more than 2.5% next year just weeks after he cut 2018ís growth forecast to 2.3% due to a political crisis in the northeastern region of Catalonia.
Recommended Reading :
* Spain economy to grow above 3.0% this year despite Catalonia crisis : Economy Minister
* Direct Catalonia crisis key risk to Spain rating : S & P