Fears Canary Island Volcano about to erupt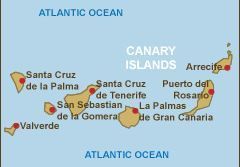 Residents and Holidaymakers to Tenerife are urged to take care amid fears of a volcano eruption following a swarm of around 20 earthquakes over the course of the last 4 days.
The increased level seismic activity around Mount Teide - Spain's highest mountain - has raised fears among experts that it may be about to erupt.
According to the Volcanological Institute of the Canary Islands (Involcan), more than 20 quakes struck the popular British holiday destination between October 28 and October 31.
Fortunately, they weren't that big, with the largest measuring 1.4 on the Richter scale, and they hit 6-8km below sea level too around Vilaflor in southern Tenerife.
The last time Mount Teide erupted was in 1909, more than 100 years ago.
Experts from the Volcanological Institute of the Canary Islands quickly sought to reassure residents by Facebook.
They said the small swarm was similar to other seismic swarms recorded in Tenerife and said the characteristics of the seismic events reflected a relationship with the hydrothermal system, which has undergone a pressurisation process.
They added: 'It is important to emphasise, it does not represent any kind of concern for the population.'
The area is no stranger to Volcanic activity, with the Island of El Hierro experiencing a swarm of almost 2,000 seismic activities between 2011 and 2012.
Geologists have also previously expressed concerns that further activity may cause a chain reaction of events that 'could' trigger a Tsunami emanating from the neighbouring Island of La Palma.
Back in 2000 the BBC documentary series, Horizon, predicted what would happen if Volcanic or Seismic eruptions caused a landslide on the Island. In the event of this happening a mass upwards of 4'000'000 cubic meters could crash into the Atlantic and cause a Tsunami that would be as high as 300 ft, and could cross the ocean in just 6 hours.
Read our archive of Canary Islands Volcanic Activity News via the link > HERE <