Spain's stat office : 5.5Mln may vote in Catalonia December independence elections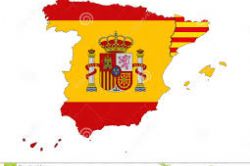 Some 5.5 million Spaniards will be eligible to vote in the Cataloniaís parliamentary elections that Spainís government has called for after the region tried to unilaterally declare independence, according to the official census published on Friday by the nationís statistics office.
According to Spainís national statistics institute, a total of 5,553,983 voters are called to cast their vote in the crucial elections due Dec. 21 of which 5.3 million live within Catalonia.
The census list can be consulted by the public until Nov. 10 and those living overseas, a total of 224,844, can do so until Nov. 22.
Of the voters in Catalonia, 136,300 will vote for the first time having reached the legal age of 18 required to vote since the last elections, held on Sept. 25, 2015.
Recommended Reading :
* Ousted Catalan leader says ready to stand in snap regional election
* Spain's Rajoy fires Catalan leader, calls regional elections