Spanish economy could lose €27bn over Catalan crisis, warns Bank of Spain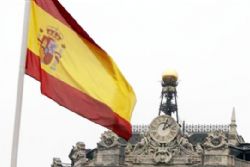 The Bank of Spain is warning about the medium-term economic consequences of the ongoing political tension in Catalonia.
In a report analyzing the risk to Spain's financial stability, the central bank said that the economy could lose between 0.3 and 2.5 points of GDP in two years, representing between €3 billion and more than €27 billion.
In a worst-case scenario, up to 60% of all projected growth for 2018 and 2019 could evaporate into thin air, reads the Financial Stability Report, which was released on Thursday.
Catalonia runs the risk of getting the worst of it and entering a full-blown recession.
"A potential heightening, or prolongation, of the political situation might adversely impact the economic outlook and financial stability in Spain," says the report. "Greater uncertainty might dent economic agents' confidence and thereby affect their spending and investment decisions, subsequently exerting a negative impact on economic activity and employment."
The report also underscores "the political tension in Catalonia and its potential repercussions for funding conditions on the capital markets and for the Spanish economy as a whole."
To date, says the report, the effect of the political tensions in Catalonia have been visible especially on the financial markets: "In addition to global risk factors, the Spanish financial markets are exposed to other specific risks and, in particular, to those relating to political tensions in Catalonia."
But the effects could extend to household spending, corporate investment, hiring decisions and financing conditions. In the medium term, says the Bank of Spain, "the macroeconomic impact of the current situation of uncertainty will depend both on its intensity and its duration."
Analysts considered two scenarios. The most benign one sees the worst of the uncertainty ending by year-end, when fresh elections are scheduled to be held. The accumulated cost to the economy would be three-tenths of a point, or around €3 billion, for the 2018-2019 period.
But there is a harsher scenario in which the Catalan conflict persists throughout the next two years, creating a situation similar to the beginning of the economic crisis in 2008, or when Spain was on the brink of a bailout in 2012.
"This latter scenario would entail a reduction of almost 60% of the growth considered in the baseline scenario for the Spanish economy as a whole, and a recession in the Catalan economy for much of the horizon analyzed," says the report.
The Bank of Spain notes that these are all hypothetical scenarios that depend on a set of assumptions, and should not be construed as growth forecasts. But "in any event, they serve to evidence the significant economic risks and costs of the situation caused by the independence initiatives in Catalonia."
The Bank of Spain was the first institution to warn that political instability in Catalonia could harm consumption, investment and financing conditions.
Recommended Reading :
* Bank of Spain warns of possible growth slowdown due to Catalonia
* Spain economy to grow above 3.0% this year despite Catalonia crisis : Economy Minister