Only 1 in 7 Catalans see dispute with Madrid ending in independence - poll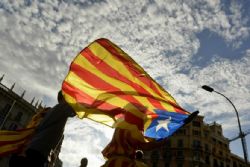 Just one in seven people from Catalonia believe the current standoff between Barcelona and Madrid will end in independence for the region while more than two thirds think the process has been bad for the economy, a survey showed on Monday.
Spainís central government took control of the region after local leaders staged a poll on secession, slated as illegal by the Constitutional Court, and then passed a unilateral declaration of independence through the parliament. In response, Spainís PM Mariano Rajoy fired the government, stripped the region of its autonomous status and called a regional election for Dec. 21.
On Sunday, the first part of the GAD3 survey showed that pro-independence parties would win the election but may not gain the parliamentary majority needed to continue with secession.
Fifteen percent said they believed the process would end in an independent state, according to part two of survey of 1,233 people conducted between Oct. 30 and Nov. 3 and published in La Vanguardia newspaper on Monday.
Optimism that a negotiated solution would be found was low, with just over a fifth thinking the crisis would lead to talks between regional authorities and Madrid.
The push for independence has dragged Spain in to its worst political crisis since its return to democracy four decades ago and has deeply divided the country, fuelling anti-Spanish feelings in Catalonia and nationalist tendencies elsewhere.
The uncertainty has prompted more than 2,000 companies to relocate their legal headquarters out of the region since Oct. 1, while the Bank of Spain said if the conflict persists it could lead to slower growth and job creation.
According to the poll, 67% said they believed the process had hurt the economy and almost 40% said the company exodus would have a negative affect on growth in the short term.
Recommended Reading :
* Catalonia unemployment jumps as political crisis drags on