Catalan parliament speaker to appear before Spain's Supreme Court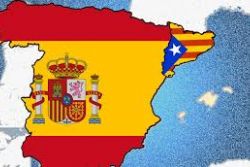 The Catalan parliamentís speaker and five lawmakers will appear before Spainís Supreme Court in Madrid on Thursday to answer charges of rebellion and sedition for their roles in staging a banned referendum on Cataloniaís independence last month.
The court will decide whether to remand the speaker, Carme Forcadell, and the lawmakers while the investigation continues or release them under certain conditions.
Eight former members of the Catalan government and the leaders of the two main pro-independence grassroots groups are already in custody, awaiting trial on sedition charges for their parts in the Oct. 1 vote, ruled illegal by Spanish courts.
The deposed Catalan president, Carles Puigdemont, went into self-imposed exile in Belgium last week after Spainís central government responded to an independence declaration by firing his administration, dissolving the Catalan parliament and calling regional elections for December.
Spainís High Court issued an arrest warrant last week on sedition and rebellion charges for Puigdemont and four former members of his cabinet who are also in Brussels.
Forcadell and the lawmakers were summoned last week to the Supreme Court, which handles the cases of people who enjoy parliamentary immunity, but it gave them another week to prepare their defences.
The Catalan independence push has deeply divided Spain, dragging it into its worst political crisis since the return of democracy four decades ago and fuelling anti-Spanish sentiment in Catalonia and nationalist tendencies elsewhere.
Cracks, however, have appeared within the pro-independence coalition and within Puigdemontís own PdeCat party (Democratic Catalan Party).
Catalan secessionist parties on Tuesday failed to agree on a united ticket to contest the December election, making it more difficult to rule the region after the vote and press ahead with their collective bid to split from Spain.
The struggle has also divided Catalonia itself and caused deep resentment across the rest of Spain, although separatist sentiment persists in the Basque Country and some other areas.
Puigdemont and his former vice president, Oriol Junqueras, are the two main leaders behind the secession bid, which last month led to a unilateral declaration of independence that Spain thwarted when it imposed direct rule.
Recommended Reading :
* Catalan leaders farmhouse pact to make last stand in Brussels
* Carles Puigdemont in Brussels : "We all know we can end up in jail"